Information On How Nurses and Carers Can Get The COVID-19 Vaccine
After months upon months of development, the Covid-19 Pfizer/BioNTech, and Oxford/AstraZeneca vaccines are now being rolled out across the UK and is available for those on the current priority list. This list, of course, includes Healthcare Assistants, Registered Mental/General Nurses, and other staff who work in Nursing Homes, Residential Homes, and Hospitals.
How To Book Your Vaccine Appointment Now
Where Can I Find My NHS Number?
This will be on any letter the NHS has sent you, as well as any prescription you have received. If you don't have either of these to hand, you can always log in to your GP's online service, which you should find on their website. Step 1: Google "Book COVID-19 Vaccine", and click the first link that doesn't have the word "Ad" next to it. It should look by the NHS website, and look something like the image below:

Alternatively, you can click the following link, which will take you directly to the website: Book a coronavirus vaccination – NHS (www.nhs.uk)
Step 2: Scroll down to the "Book my appointments" section.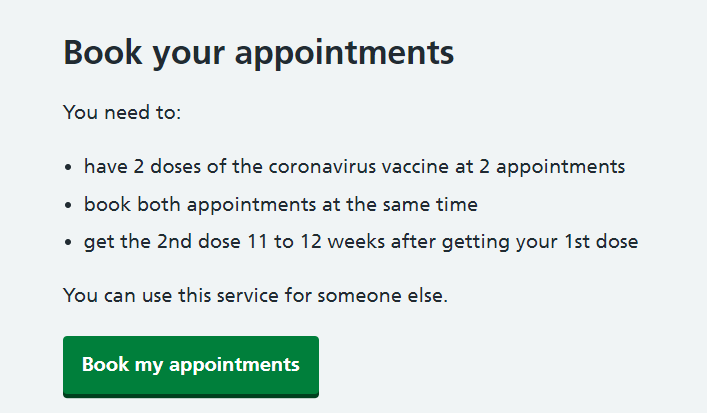 Step 3: Enter Your NHS Number, or fill out some extra details if you don't have it to hand. If you don't have your NHS number, you will have to fill out your name, associated gender, and postcode that your GP has.
Step 4: Confirm your eligibility. If you're a Carer or Nurse, this should be no problem! Simply select "Yes, I am an eligible frontline health worker aged 18 or over". When you go to the appointment, you will need proof that you are eligible for the vaccination, or you may not be given the vaccine.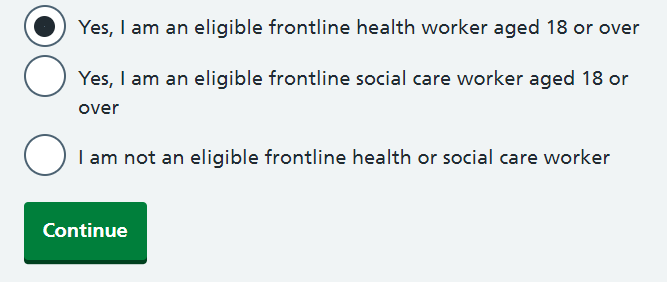 Step 5: Fill out some more details You will now be asked if you're clinically extremely vulnerable, if you have had the flu jab in the last 7 days, and if you have an appointment soon. Once done, simply enter your postcode, and you will be able to select the nearest vaccination facility.
Step 6: Confirm your details, and you're done! Now all you have to do is make sure you get there on time. Don't worry though, when you get there, everything will run very smoothly.
What Is It Like To Go To A Vaccination Centre?
Our Managing Director, Michelle Horsfall, has recently been to a vaccination centre, and was kind enough to share her experience, which she hopes will help put you at ease about going! Here's what she has to say:
"Recently, I got the COVID-19 vaccine. I went for my first vaccine jab at Thackley Museum in Leeds. It was well-organised, and I was there for literally 15 minutes. Everyone was wearing PPE, and it was a one-way system into a large room where there were Doctors, Nurses, Carers and Volunteers giving the vaccine. It was very organised and everyone I spoke to, helped me to feel very safe."
"Firstly, I was asked to fill out a form before I had the jab. It was very straightforward (you need your NHS number), and there was someone there in-case any help was needed. After this, I was asked to go over to the other part of the room, where partitions were used to create cubicles. I was greeted by a friendly Nurse who helped make me feel at ease. Of course, I was a bit nervous in case it hurt, but she just talked to me, and before I knew it, I had been given the vaccine! I can honestly say that I didn't feel a thing. Once given, I had to wait 15 minutes in another room, in case there was any reaction from my body. Again, it felt safe, as everyone was wearing PPE."
"As expected, there was no reaction, and I was able to leave and go back to work! The only side effects I had was a sore arm and a bit of a headache for a couple of days… just like getting my yearly flu jab!"
Alternatives To Booking Online
If you'd rather not book your vaccine online, for whatever reason, you have two options:
Ring your GP and enquire.
Wait for the NHS to send you a letter.
There is no guarantee when you will receive your letter if you haven't already. Therefore, we would strongly advise booking online ASAP, so you don't have to wait around.
Can Your Nursing Agency Book You In?
Whilst we can't speak for others, at Medilink Nursing we have called all of our staff around the vicinity of the Head Office to book them in for their vaccination. The safety of our staff will always remain a priority, so we always want to make sure they have whatever is needed to do their job comfortably.
If you are a part of our team, and have been contacted by us to get your vaccine, but turned it down, you can still get it! Simply follow the steps above, or ring us so we know you've changed your mind! Getting this vaccine is essential in saving the lives of thousands of people, as well as your own. Please do your part, and get it booked as soon as you can!